Social Media
Various social media campaigns run for a variety of brands.
In 2018, we were challenged to develop Instagram posts to celebrate tequila drinking occasions throughout the holiday season. From Day of the Dead to the Christmas holiday timeframe, these posts used stop-motion animation and succinct captions with Sauza's quick personality.
Animation: the skeleton of the gallo would flicker on and off.
Animation: watch the creation of the sugar skull as each element comes into the frame
Launching a new flavor of the new spiked sparkling waters.
Incorporating a promotion through Drizly alcohol delivery
Animation: Video of making the beverage. Details for the recipe's steps are provided across the multiple slides.
Summer 2015, we helped Reese's develop unique sayings to be printed on their cups. These cups, sold only at Walmart, were marketed as great complements for the Coca Cola #ShareACoke campaign, where names are printed on each label. I helped develop a social media campaign to drive customers to Walmart to pick up a custom pack of Reese's to pair with a custom bottle of Coke.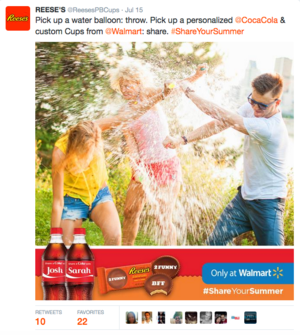 Samples of Facebook posts for a local grocer near Chicago.